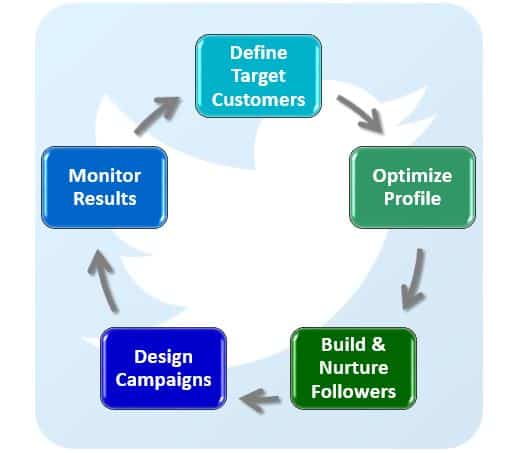 Social media is useful for many aspects of business, but in the end, we all need to make money. If you are on Twitter and your role at your company is supposed to contribute to the bottom line at some point you're going to ask "Ok, seriously, how exactly can I use Twitter to generate leads?" I developed a framework to explain the way I view social media for lead generation and in this post, I will address its application to Twitter.
Step 1: Define Your Target Customer(s)
Before you can use Twitter for the purpose of generating leads it helps to create a clear definition of your target customer. Your prospective customers will be online researching solutions to their problems well before they engage with your business. Consider the keywords they might use in searches and the types of questions they might ask on social media. Defining your target customer is often referred to as building a buyer persona. This list of buyer persona questions can help you do just that.
Having this information will be useful as you go through each of these steps. Not only will all of your tweets be written with your target audience in mind, but to fully leverage the power of Twitter you must listen as much as (if not more than) you share. Creating a clear picture of who your target customer is and the types of concerns they might be airing on Twitter will be key to finding the right people with whom to connect.
Step 2: Optimize Your Profile for Your Target Audience
When deciding whether or not to follow you on Twitter, people review your profile. In addition to looking at your images and reading your bio, they will also explore your recent tweets. Be sure that your profile is inviting, presents a consistent reflection of your brand, and that you are sharing information that your target audience will be interested in. Consider whether your customers will prefer to interact with a human or a logo and whether you should take a formal or casual tone with your tweets.
The short bio that goes right under your profile photo is searchable. Include keywords and/or hashtags of interest to your customers so they will find you and understand the benefits of adding your tweets to their feed. For detailed information on setting up your profile refer to my post titled "Twitter Set-Up Tips."
Step 3: Build and Nurture Your Followers
Some people never worry about the number of followers they have on Twitter. They use it purely as a networking tool where they can learn about potential prospects or partners and listen for conversations that are relevant to their business. When it is appropriate they engage and add value. Once a rapport has been established they might extend an invitation to connect on LinkedIn. This is a perfectly reasonable and low-key way of engaging with Twitter and could be ideal for an individual contributor, salesperson, or even the leader of a company.
When people call social media a "free" marketing tool, however, what they are referring to is the opportunity to share your business message with many people at once. To accomplish this you need to build and nurture your followers with an emphasis on quality. This means that your followers should be relevant to your business and interested in what you have to say so they are motivated to amplify your message by re-sharing and actively engaging with you. Naturally, the more quality followers you have the better off you will be.
Growing followers of this caliber is an ongoing effort that requires time and patience. You can do this proactively, by selectively following based on your buyer personas. Using Twitter's advanced search functionality you can find people of interest using very specific criteria. To find "advanced search" type a term into the search box on Twitter and hit enter. You will be presented with the top tweets with that term. Select "more options" and you will find "advanced search" at the bottom of the menu.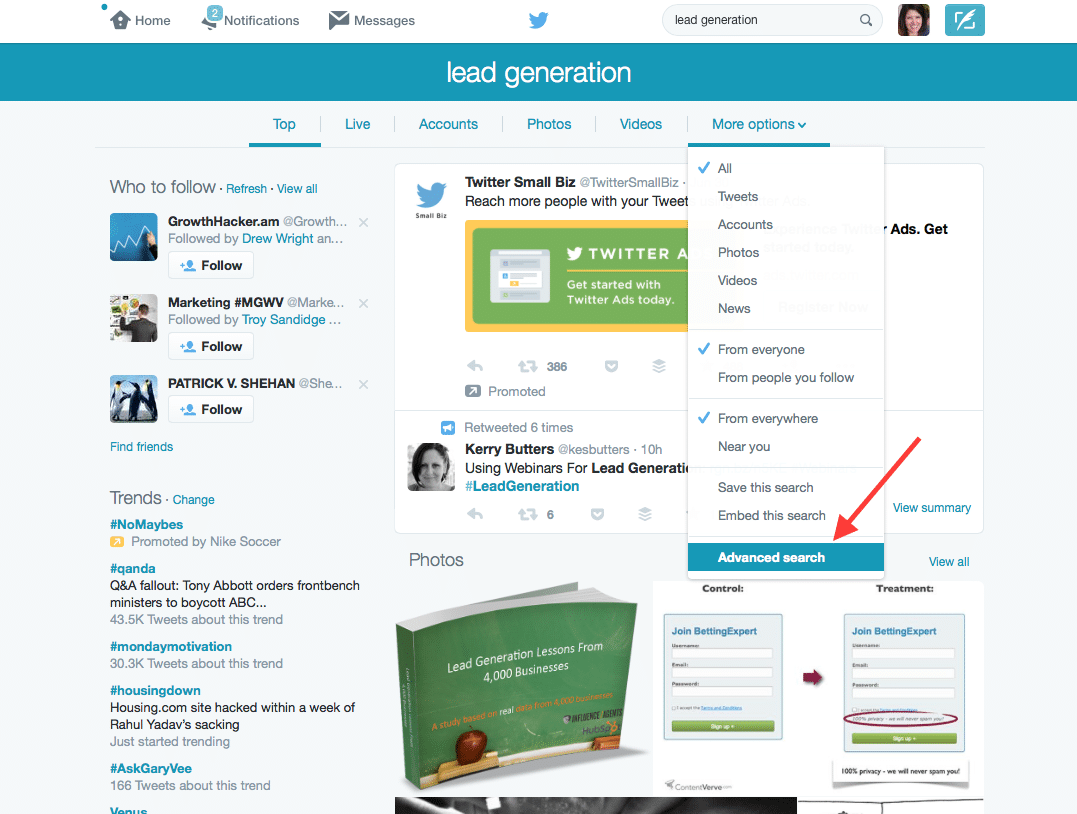 Twitter provides specific instructions for how you can use this feature and Ian Cleary has written a great guide that explores advanced search in-depth.
When you proactively follow relevant accounts many of them will reciprocate but others may take a little time. Nurture these accounts by retweeting them and by providing value to them without being promotional. This will build trust that will likely lead to a reciprocal relationship over time.
In addition to proactively following, you can attract followers through:
Participation in Chats
Chats are a terrific way to create interactions and attract like-minded people. I recently wrote a blog post titled "Everything You Need to Know About Twitter Chats" to guide you through this process.
Active Listening
Monitoring and responding to mentions of your business and issues of relevance to your industry is a great way to gain visibility and followers. You can listen on Twitter or by using a tool like Hootsuite.
Creative Tweets
Use images, videos, hashtags, and Twitter cards to bring attention to your tweets. The more visually appealing your tweets are, the more likely they are to be noticed by new followers.
Promotion of Your Twitter Handle
Include your Twitter handle on everything you create for business. This includes your website, business cards, e-mail signature, brochures, and anything else that is seen by your target audience.
These organic methods for growing your followers may be enough, but for those who have the budget and desire to grow their followers quickly, Twitter also offers a paid solution. This advertising option involves the creation of promotional tweets with a "follow" button that is aimed at a highly targeted audience of your choosing.
Your quest to build and maintain a strong community of followers will be ongoing. Nurture these relationships by committing to a regular posting schedule and by staying engaged through interactions with your followers. This will validate your business, create trust, and over time it will earn you the right to engage in promotional activity.
Step 4: Design Campaigns to Inspire Specific Action
The efforts described above will result in leads over time, but when you are ready to nudge your followers to the next level you will need to design marketing campaigns. Marketing campaigns are communications that are created for the sole purpose of inspiring people to take a specific, measurable action.
Campaigns will be tailored to your unique business goals. You might wish to drive traffic to your website to request a demo, download content, or attend a webinar. Or, perhaps you want to encourage your followers to download your app. You can also use campaigns to support offline marketing efforts like conferences or sales in a physical store. It's completely up to you.
Campaigns can be run organically by building creative content that you share in tweets with your followers. If you have taken the time to attract followers that are truly engaged and relevant to your business you will likely have some success. Create compelling content with a clear call to action. Experiment with different headlines, visuals, and hashtags then pay attention to Twitter analytics to determine what is or is not working. You can even target specific followers by sharing the messages using @mentions, but this is a technique that can be annoying if overused.
Of course, the challenge here is that your reach is limited by your followers, retweets, and hashtags. So, the results may not be as robust as you wish. If you have the budget and want to give these campaigns a boost, Twitter offers paid methods to:
Step 5: Monitor Your Results
You can analyze the results of your efforts directly through Twitter, but CRM systems or social media monitoring tools also provide this service. In addition to monitoring the success of your social media posts, you may also need to set up methods for tracking the impact of your activities on your website traffic. This can be done with Google Webmaster Tools (now called Google Search Console) and Google Analytics.
Your choice will depend upon the extent of your efforts in this area and what works best for you. Always determine the goals and the metrics you will track before you engage in any sort of focused campaign so you can measure the results and adjust your strategy based on whether or not the campaign meets expectations.
Conclusion
Lead generation on social media requires time, planning, and effort. Don't let anyone tell you otherwise. Experiment with different things to figure out what works for you. Just when you think you've got it down, the rules will change and you will have to adjust. That is just the nature of marketing in our technologically advanced world. Twitter can be a wonderful source of leads for many types of businesses. Although B2C seems to leverage Twitter more effectively at this time, B2B is in its infancy and growing so there are opportunities to get ahead of the pack.
The reputation and appeal of using social media for marketing is the relatively low cost, but this may not remain the case for long. Social media platforms need to make money too and they are looking to marketers to help with this. Twitter is certainly no exception. But if Twitter is where your customers are, you need to be there too and you will find a way to make it work for you.