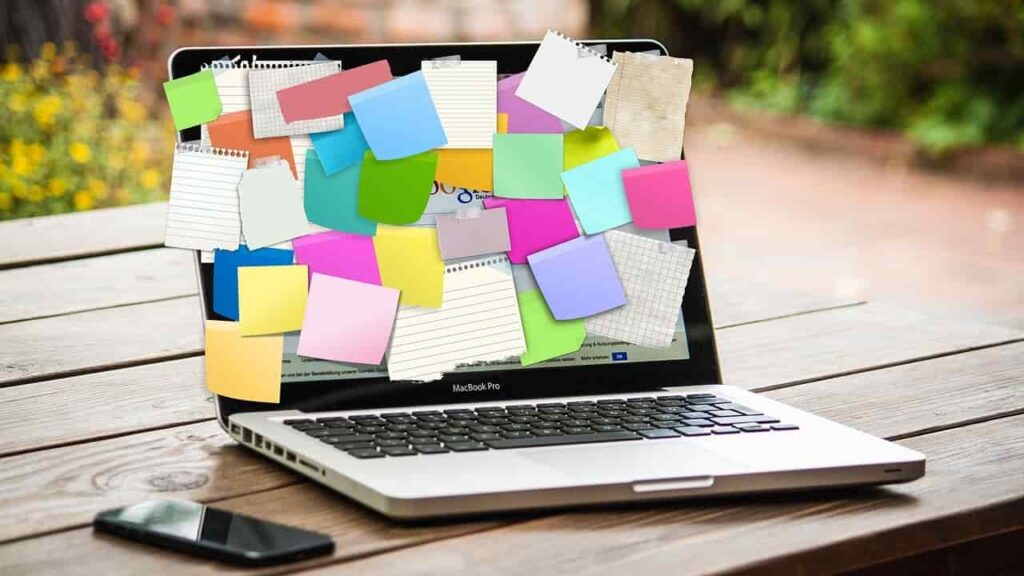 Last updated on April 6, 2020.
Executing a content marketing strategy is a lot of work, but when you combine the efforts of a well-managed team, the results can be downright magical. The challenge, of course, is coordination. Each contributor has conflicting priorities and a unique style. To keep everyone on the same page, you need to learn how to build an editorial calendar your entire team will actually use.
What is an Editorial Calendar?
In its simplest form, an editorial calendar (also known as a "content calendar") is a document that communicates what you plan to publish, when you will publish it, and who will handle each component. But if you choose the right content calendar tool, it could do so much more. An editorial calendar can also help you clarify the purpose of each piece of content and improve collaboration with your team.
No pressure 🙂
There isn't one solution that's ideal for everyone. The trick is to identify a tool that suits the complexity and frequency of your publishing schedule as well as your team's preferences. To get you started, below are five examples of how to build an editorial calendar, the pros and cons of each one, and quick links to each section.
Editorial Calendar Examples (Navigation)
How to Build an Editorial Calendar Using a Spreadsheet
Spreadsheets (like Excel or Google Sheets) are great for many types of organizational tasks, including editorial calendars. Anyone with a computer can access some form of a spreadsheet. And as long as you keep it simple, most people are reasonably comfortable using one.
Spreadsheet-style editorial calendars are best for marketing teams that publish once or twice per week (or less). And it's useful to set them up in a common environment (like Google Drive or OneDrive) so you can share them with your team members and collaborate on changes.
I sometimes see editorial spreadsheets that have been set up to look like an actual calendar. Personally, I find this limits the tool's utility. Instead, I prefer to use the traditional row and column layout, so I can manipulate and sort the data when I need a different view.
The information included in an editorial calendar will vary from one organization to the next. But it will usually look something like this: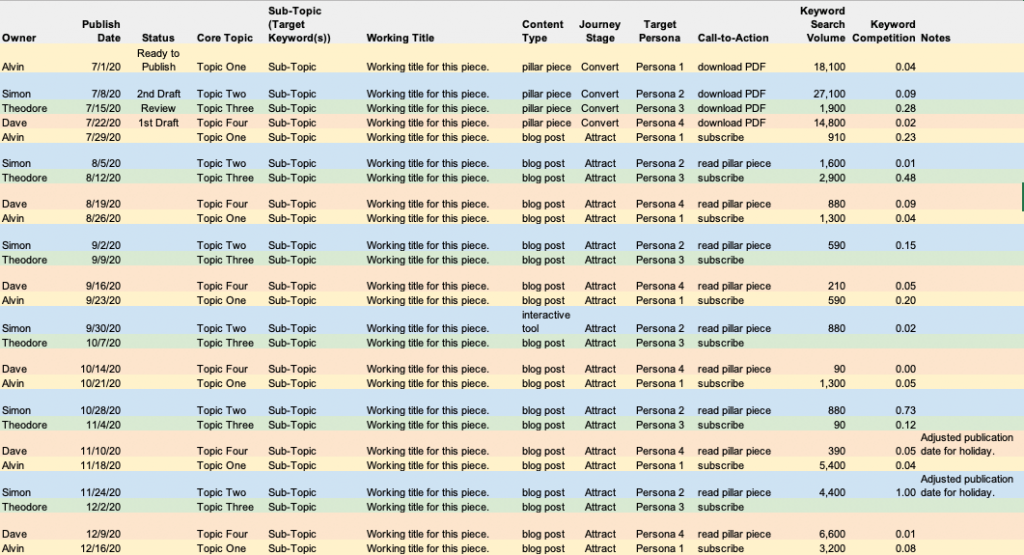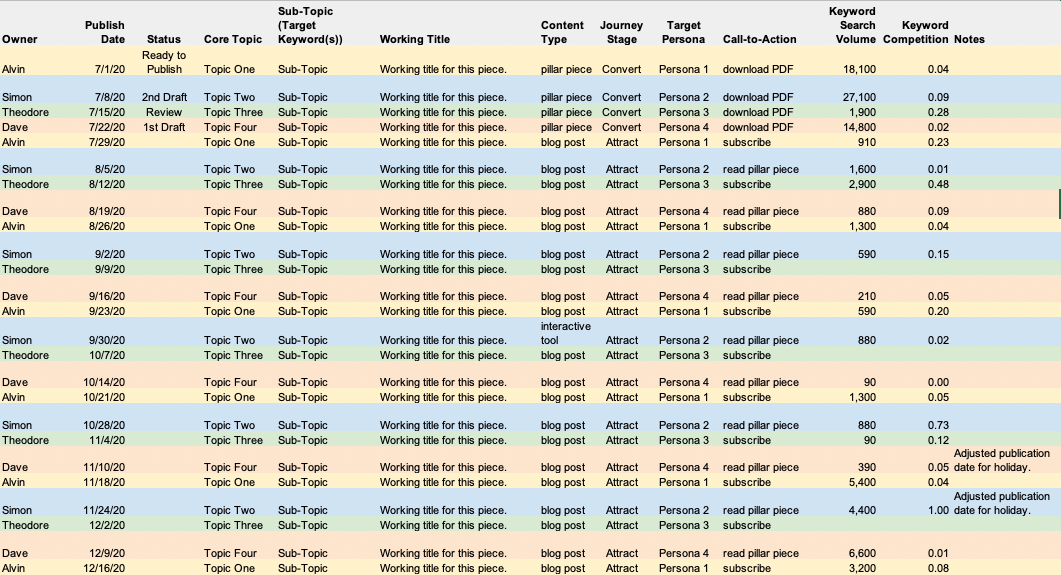 In addition to the columns shown here, it's often helpful to include other information. For example, you'll see that I have a column for the search volume for my target keywords. But, it might also be useful to add columns for the estimated traffic potential and links to relevant research. You could even create a separate sheet to store content ideas so you will have them on hand when it's time to update your calendar.
When you're ready to plan content, you can use this link to download the content calendar template in Excel. Or, this link to make a copy of this content calendar template in Google Sheets. Then adjust the columns to suit your needs and replace the text in each cell with your own information.
Pros of a Spreadsheet Style Editorial Calendar:
Low barrier to entry. Not only is this a free editorial calendar, but most people have access to and feel comfortable using a simple spreadsheet.
Limited adoption challenges. Team members can incorporate this tool into their existing file structure and workflow.
Simple to set up.
Some collaboration capabilities if the spreadsheet lives on

a shared drive.

Few limitations. You can use a spreadsheet to do almost anything.
Cons of a Spreadsheet Style Editorial Calendar:
Spreadsheets require manual maintenance. If your entire team doesn't commit to using this tool for editorial content planning it will become dated.
Limited scalability. Spreadsheets are great for small teams who publish once or twice a week, but they can become unwieldy if your publication frequency increases.
Permissions must be carefully managed to avoid unwanted changes to this critical document.
Limited workflow collaboration capabilities.
Creating an Editorial Calendar with Google Calendar
If your team uses Google Calendar, setting up a separate editorial calendar in that same environment is another viable option.
From within Google Calendar, click on the plus sign next to "Other calendars" and choose "Create new calendar."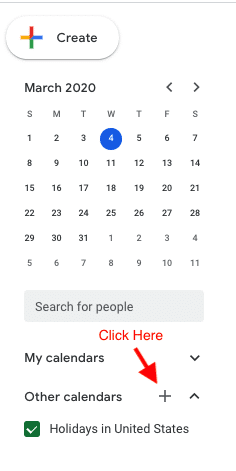 Then give your calendar a name and click "Create calendar." Your new calendar will appear in the left panel under "My calendars." From there, you can edit your settings (if desired), and share it with your team. 
Now you can populate the calendar with your content plan and keep everyone informed of the publication schedule.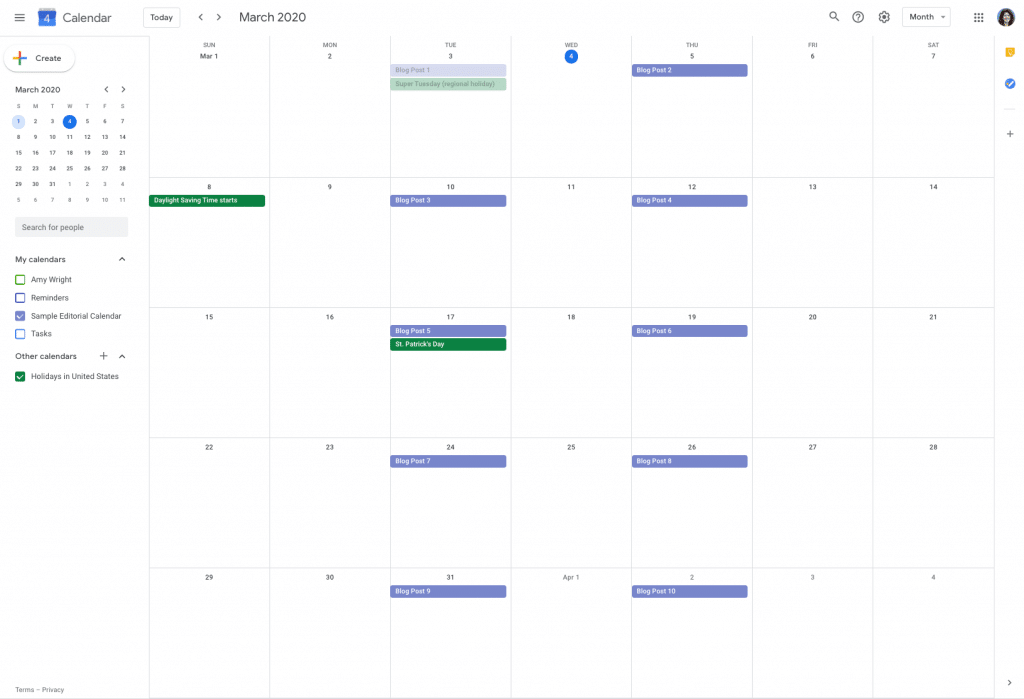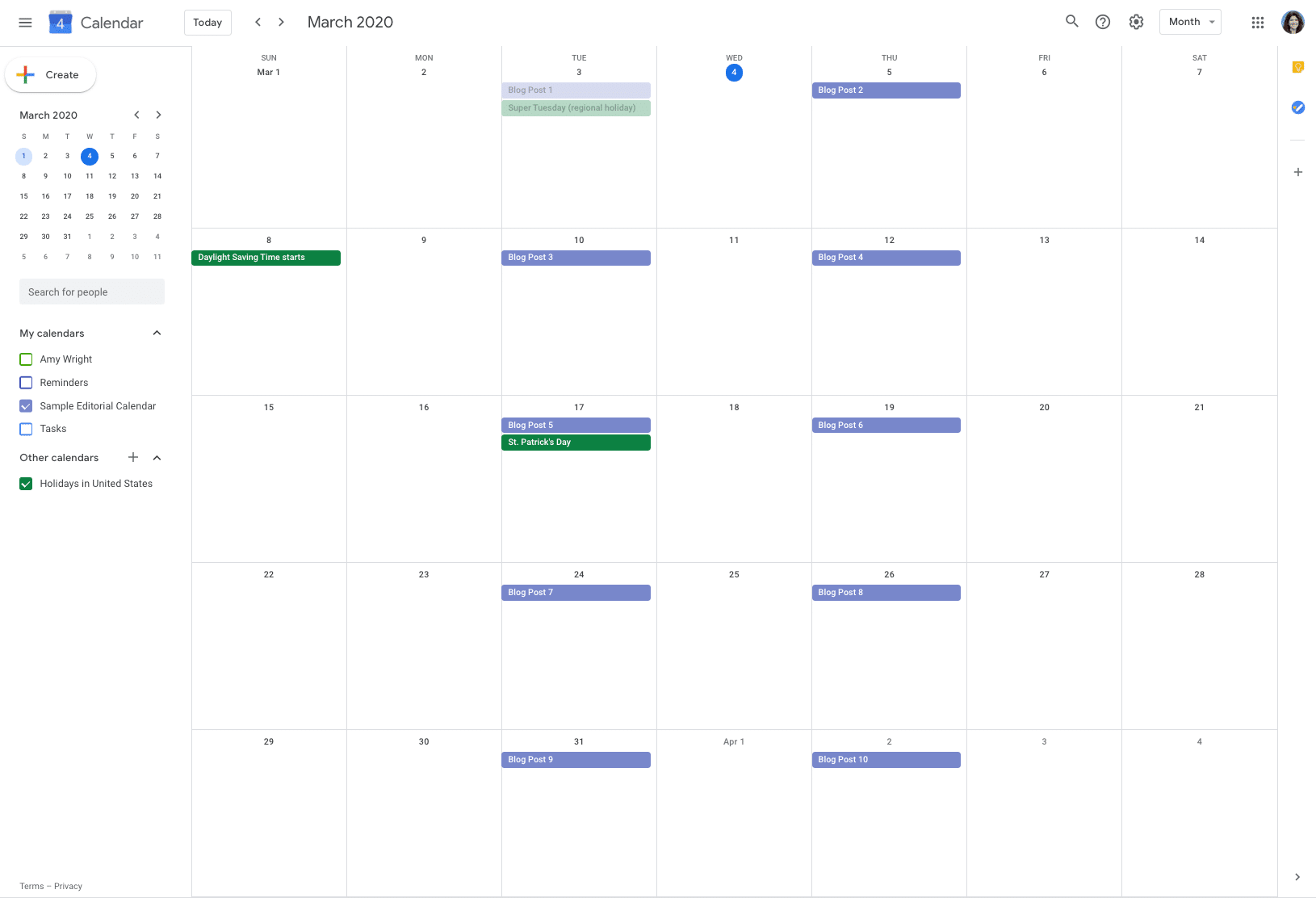 Add alerts, files, and links to each entry so your authors will have access to everything they need to create content.
Like spreadsheets, using a Google Calendar to manage your content production schedule is best when your publishing frequency is light. Although the tool is familiar and there are some collaboration capabilities, it can become frustrating to those who publish a lot of content.
Pros of Using Google Calendar as an Editorial Calendar:
Low barrier to entry. Google Calendar can serve as a free editorial calendar. It is also familiar and easy to use.
Limited adoption challenges. Those who already use Google's suite of tools will find it quite natural to integrate this option into their workflow.
Simple setup.
Cons of Using Google Calendar as an Editorial Calendar:
If your team doesn't use Google Calendar, they may not be willing to start now.
Limited scalability. This is a very simple editorial calendar. Using Google Calendar to manage your editorial process can become cumbersome if your publishing frequency increases.
Limited collaboration capabilities. Complex editorial workflows would benefit from a more robust tool.
Building an Editorial Calendar in Asana
If your team uses a productivity solution, you might be able to create an editorial calendar using your existing task or project management tool. This is a terrific option when several team members work on each piece of content. The right solution can help you manage your workflow and keep everyone informed.
There are many such tools, but I prefer Asana and will use it to illustrate this point.
Asana organizes work into "projects" and the individual "tasks" related to each project. You can then view those tasks as a list, on a calendar, or on a "Kanban" board. Here's an example of an Asana editorial calendar project that uses the Kanban method.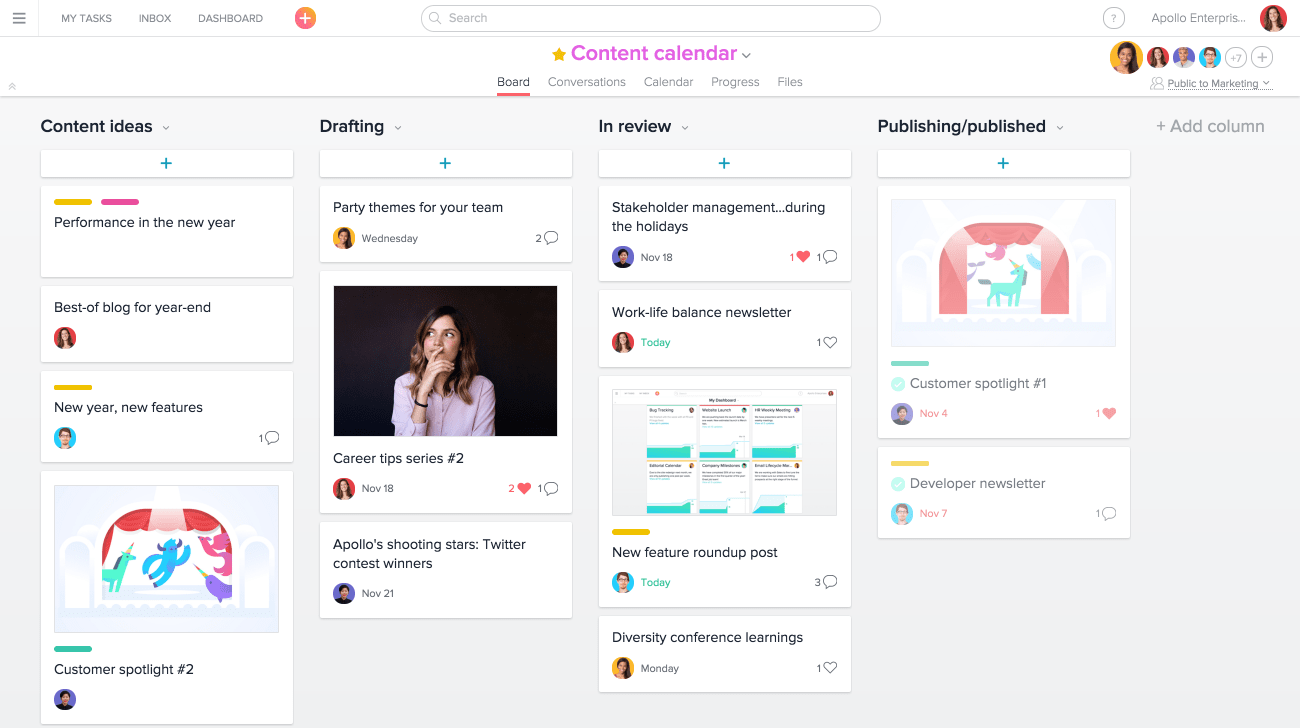 In this example, a card represents each piece of content (or task) you intend to create. As work is completed, you move the cards from left to right to visually track your progress. But the real magic happens inside each individual card.
Within each card, you can break down tasks into subtasks and assign them to your contributors. For instance, if you need a graphic for your next blog post, you can assign that subtask to your graphic designer. That person will get an alert (with the requested due date). They can then either accept the assignment or propose a change.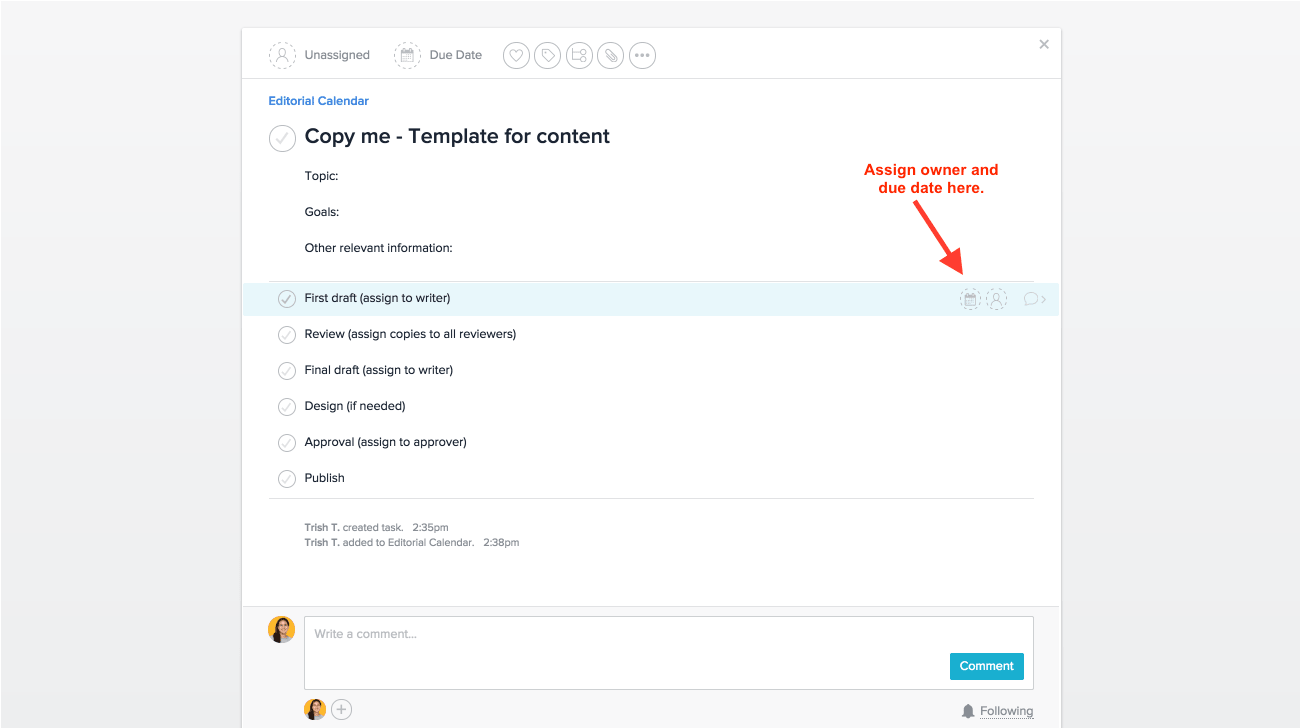 You can also attach files and communicate with your team right within the Asana tool. This means you will have everything related to each piece of content in one place.
This is just one example of how to create an editorial calendar and workflow using a productivity tool. The pros and cons will vary based on the solution you choose and how you use it, but here are the pros and cons of using an Asana editorial calendar.
Pros of Creating an Editorial Calendar in Asana:
If you already use Asana, you can build your editorial calendar right into your existing task management workflow. This negates the need to juggle documents or manage a complicated solution adoption process.
Collaboration features make it easy to communicate the status of individual pieces of content and their associated tasks. This will help you avoid bottlenecks.
Premium features add rich project management and organizational functionality that improves the tool's utility.
Cons of Creating an Editorial Calendar in Asana:
If your team does not use a common productivity tool for collaborating on tasks, you will need to agree on a solution and go through an adoption process.
Most productivity tools were designed to manage a wide variety of projects and tasks. This means they may lack features

of particular interest to content managers.

Building an editorial calendar into your productivity solution should work for a moderate production schedule but may challenge your ability to scale.
If you like this concept (especially the Kanban method), but don't think Asana is right for you, Trello and Monday are good alternatives.
Using Airtable to Make an Editorial Calendar
Spreadsheets and collaborative to-do lists are perfectly fine for managing the content needs of a small team. But you may find that you need a more robust editorial calendar solution as your program matures. Airtable is a good option for people who like using spreadsheets but need something more.
Airtable is a cloud-based application that offers the deep functionality and relational aspects of a database in a visually appealing spreadsheet format. The tool allows you to collaborate with team members, attach files, and segment data. A basic version is available for free. Feature-rich upgrades start at $10 per user, per month.
This tool is useful for managing a rigorous editorial schedule. There is a learning curve, but Airtable provides use-case templates to get you started. Here's a screenshot of their content calendar template.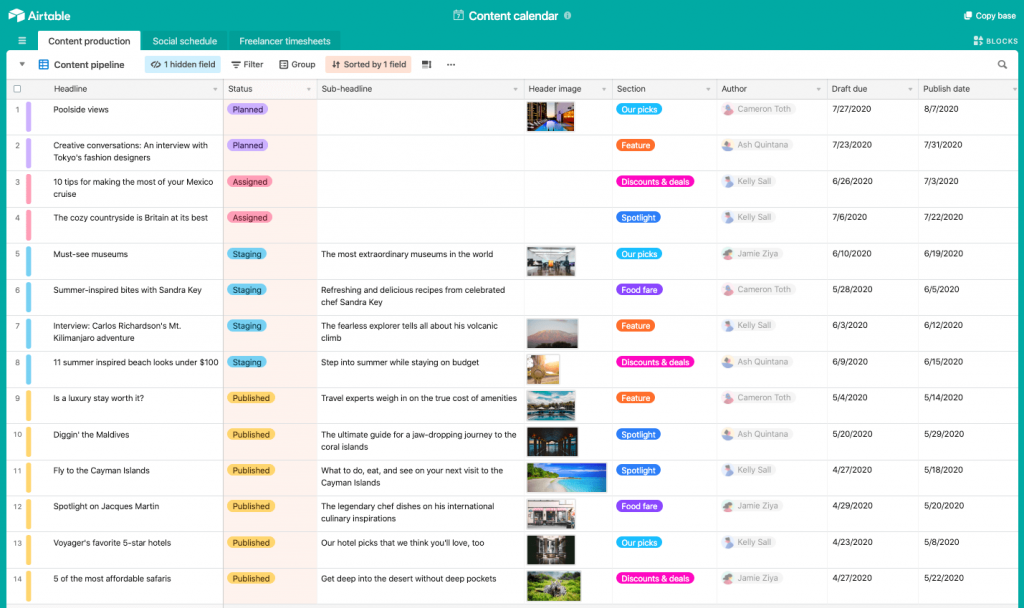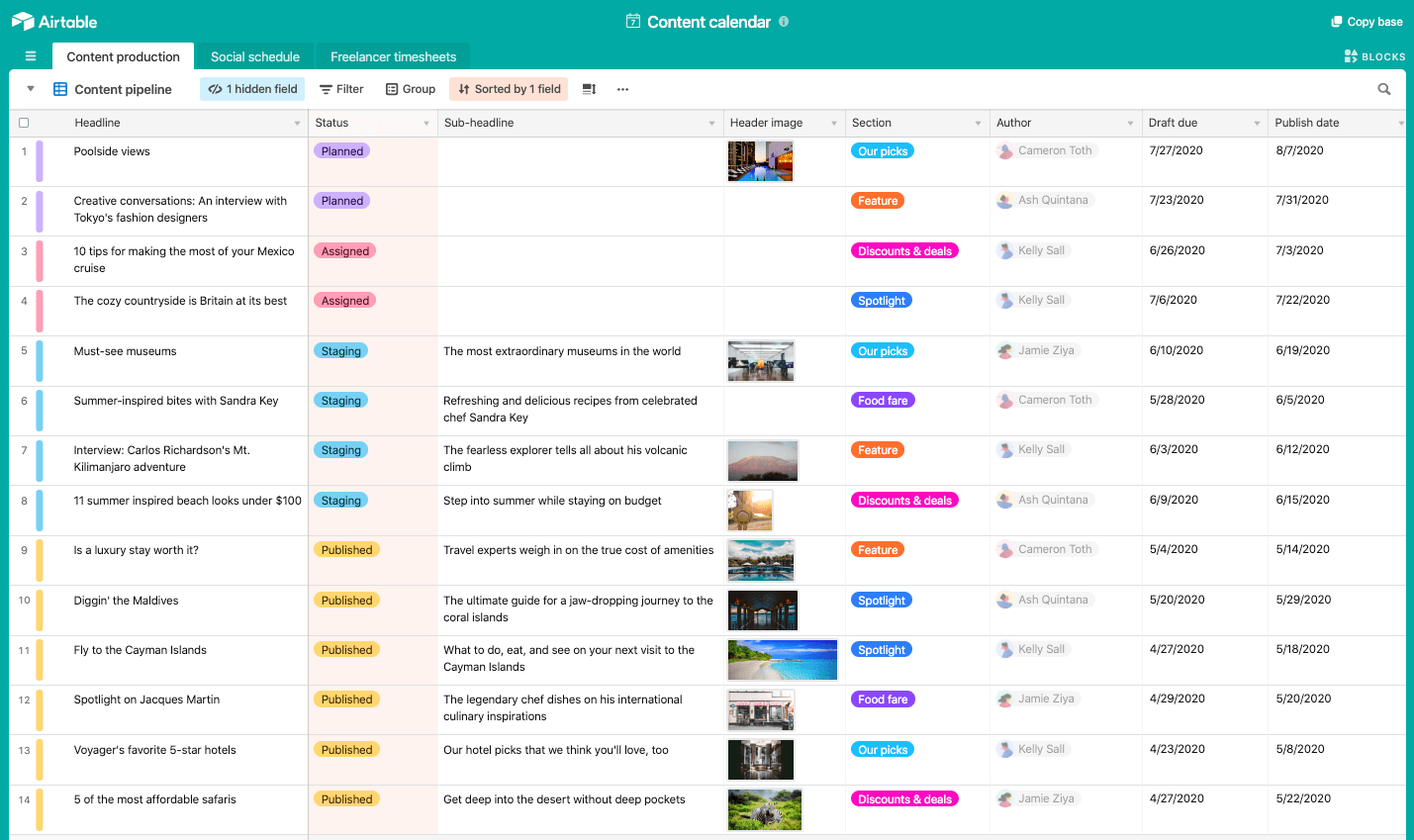 I choose this editorial calendar template because it shows how Airtable can work for a large, prolific team. They also provide simple content calendar templates for smaller-scale projects such as the management of a blog.
Pros of Using an Airtable Editorial Calendar:
Superior collaboration capabilities when compared to spreadsheets.
Provides robust relational database functionality combined with easy ways to view and sort the data. This flexibility satisfies spreadsheet fans while also accommodating visual types with calendar, Kanban, and gallery views of the same data.
Offers integrations with many popular applications. This makes it easier to build the solution into your workflow.
Cons of Using an Airtable Editorial Calendar:
Significant learning curve, particularly for those who are not familiar with databases.
Airtable isn't mainstream yet, which means you're adding a new tool to the mix and may encounter resistance.
Spreadsheet power users may expect certain functionality that isn't yet available. This will require patience. The solution is becoming quite popular and is adding new capabilities all the time.
Like a spreadsheet, manual updates are necessary to keep the tool effective.
This solution wasn't designed specifically for marketers. Marketing-centric features are present but aren't necessarily a top priority.
Adopting CoSchedule as Your Editorial Calendar
CoSchedule is a planning and execution tool designed for marketers. It was initially created to manage the content marketing process. Since then, it has grown into a platform that can support a wide range of marketing initiatives.
You can use CoSchedule to build an editorial calendar, collaborate with contributors, and schedule social media posts all from one place.
The company offers a wide range of pricing. Basic capabilities for bloggers start at $30 per month, while the full marketing suite starts at $190 per month.
Planned content is presented on a calendar, which can show everything or a filtered view. You can manage each piece of content using a customizable, collaborative workflow so you always know where things stand. You can also set up a social sharing plan for each piece of content and use it to populate a built-in social media scheduling tool.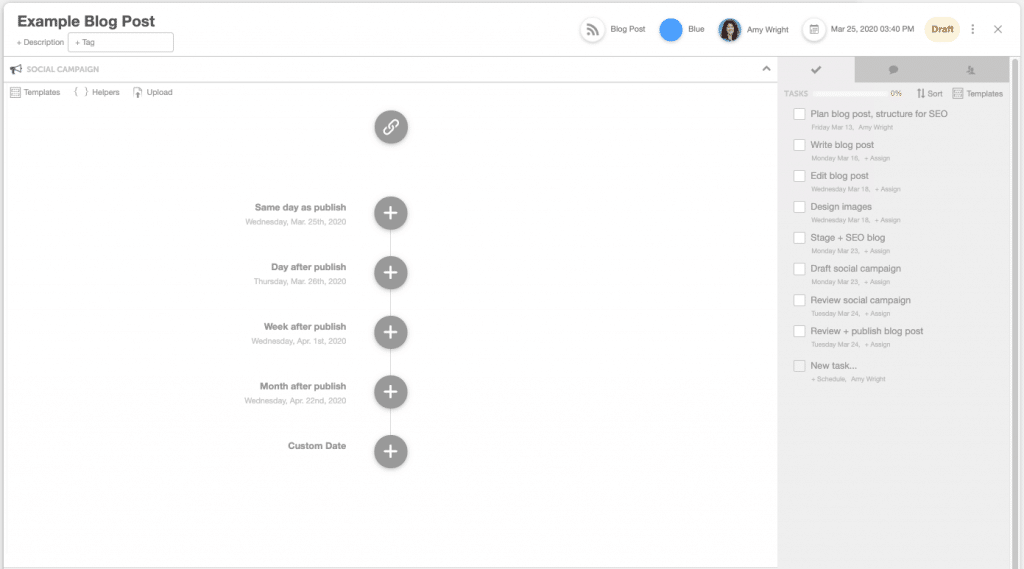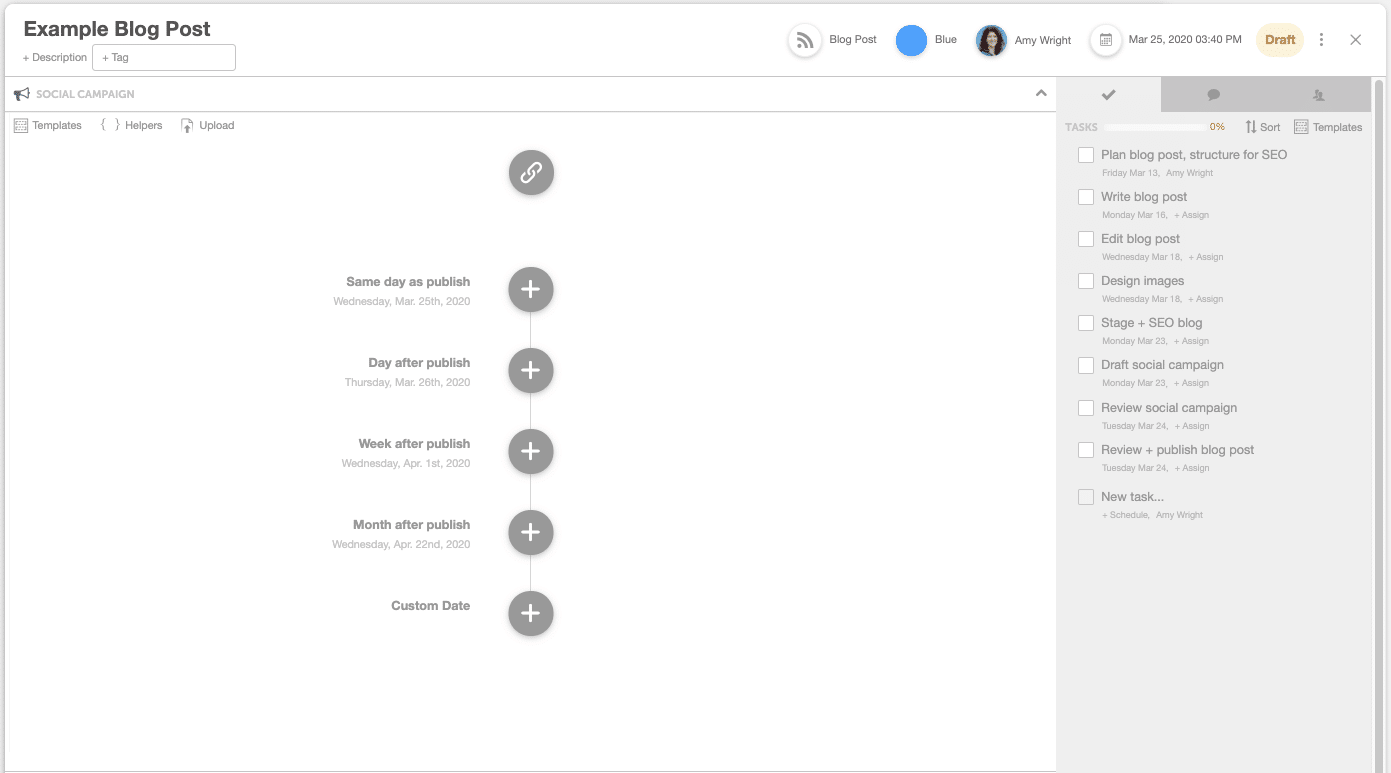 Pros of Using the CoSchedule Editorial Calendar:
Designed specifically for marketers.
Useful for managing all types of content – blogs, resources, social media content, graphics, white papers

, email campaigns, etc.

Handles the entire content production process – from ideation to publication to social promotion.
Doubles as a scheduling tool for social media posts. You can set up the entire social sharing plan for each piece of content as part of your content creation workflow.
The full suite includes an asset management feature, so you can keep track of every piece of content once it has been created.
It can expand to support other types of marketing activities like collaboration on events.
Cons of Using the CoSchedule Editorial Calendar:
Yet another tool to adopt and integrate into your workflow. It's great for your marketing-related tasks. But it doesn't accommodate the need to manage other types of activities. The product does integrate with Zapier, however, which may make this issue easier to work through.
Analytics data is limited to the impact of social posts and reports on your team's productivity.
Your data resides in the tool, and you cannot extract it for further analysis. For example, if you wish to conduct a content audit using a spreadsheet, you must build an inventory of your content separately. You can, however, download and share individual content assets.
Choosing an Editorial Calendar Solution
Deciding how to build an editorial calendar so you can collaborate with your team will have a big impact on your efficiency. Defining your requirements and exploring editorial calendar examples is a good way to start. There are other options that may be more suitable for your situation, but we will save that discussion for another day.
I do not receive compensation from the vendors mentioned in this post. I show my clients how to create an editorial calendar as part of my content strategy services. I'm simply sharing what I've learned. If you would like to discuss this further, please feel free to reach out.